My NOOK Tablet!!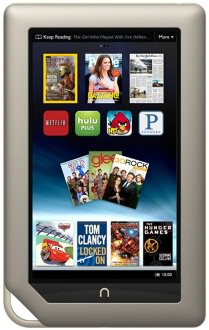 It has gone everywhere with me. I have barely even touched the edges of what it can all do. So far, I have started reading a book, "The Hunger Games" (more to come on that later), blogged more than usual (this is due to the hubby and I not having to share the laptop), found new patterns while blogging (sshhh, some are being held secret), checked my email, replied to the emails, facebooked, shopped on Etsy and there are more things that I just cant remember. Oh yeah, I have gotten a new abs workout and plan to get the legs, butt, arms and cardio workouts tonight.
So far, the 8g has been plenty for our purposes and brought the price to be more in our area.
Rumor has it that my NOOK has a fun, new sleeve on the way soon too!
What is your new (or old) favorite thing?
Don't have one? Go check out
Dakota Maid
, you are sure to find your next favorite(s)!!
TJO
PS. No, I have not, nor do I plan to, play Angry Birds. :P